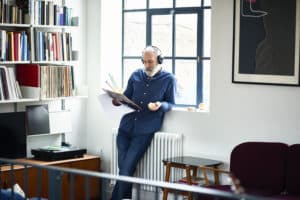 There are many enjoyable ways to Age Well, including regularly attending live music performances and, for times like these when you can't come to a concert in person, listening to recorded music. Below are some research findings that symphony subscribers and other music-lovers will be happy to learn. These facts have been compiled by Mather Institute, the research arm of the organization that is bringing The Mather, a forward-thinking Life Plan Community for those 62 and better, to Tysons, Virginia.
Listening at Home
While most live orchestra performances and other concerts may be virtual these days, there is good news: you can reap benefits for your brain, mood, and physical health by listening to recorded music.
Listening to music has also been proven to engage the brain, improving your processing speed and sharpening memory. Depending on the tempo and intensity of the music you select, you can also use songs to alter your heart rate and blood pressure.
When you listen to a song, the vibrations travel into your brain via nerves, where they activate the limbic system. This activation stimulates specific body systems that result in increased endorphin levels. Tunes also touch the right hemisphere of your brain, the side associated with creativity and imagination. With these physiological changes occurring in your brain, you can harness the power of music to boost your mood:
1. Relax. Listen to soothing, calming melodies to ease stress and relieve physical and mental tensions and anxiety. Soft music is ideal during a cool down after exercising or as a way to drift off to sleep.
2. Get active. Get a better workout by adding some energetic music. Studies show that people who exercise to music are more diligent in their workouts, more persistent, returned to the gym more often, worked out for longer periods of time, and in the long run (literally!), remained more committed to their exercise plans.
3. Work better. Numerous studies conducted in workplaces from factories to offices conclude that listening to music while working is very beneficial for employees and their companies. Employees who have tunes playing in the background are more productive, efficient, diligent, and even enjoy their job more.
A Sound Dedication to Live Music
Nelson and Susanne Joyner are devoted subscribers to Fairfax Symphony Orchestra who have placed a deposit on an apartment home at The Mather. "We've really enjoyed the Fairfax Symphony over the past 10 years or so," says Nelson. Susanne recalls that they "fell in love right off the bat" when they attended their first FSO concert.
The couple typically attends concerts and operas at multiple venues throughout the year, and Nelson says the pandemic has halted their routine. "We truly miss attending live concerts," he says, "But we've taken advantage of the Metropolitan Opera streams—they put a different performance online every night."
The Joyners share a wide range of musical tastes: "My favorite composers are Wagner and Beethoven," says Susanne, "and Nelson's are Beethoven and Brahms. But really, we like everything—we love Philip Glass."
From its effects on longevity and well-being to helping with motivation, music is one major and easy path to living well!
Learn More Healthy Tips
You can learn more how-tos on easy habits that are good for your body and your brain with research-based Ways to #AgeWell tips from Mather. These short tips help you Age Well in a number of ways. From simple habits that boost brain health to easy steps toward building resilience and happiness, each small tidbit can make a big difference in your life.
Receive the tips:
Take this easy step toward Aging Well today!